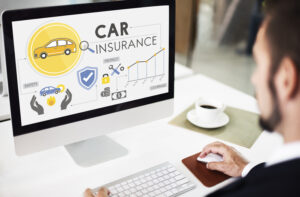 Whether shopping for new car insurance or considering a switch, comparing car insurance rates is the best way to find a great deal on auto insurance.
Comparing car insurance quotes is a simple process that can save you hundreds of dollars annually. Our team of experts compared car insurance quotes to present you with this data-driven guide.
Compare car insurance quotes from different companies
To compare car insurance rates, see how companies compare at three coverage levels in this chart below. The rates shown are the average annual rates for:
State-minimum liability only
Liability only: 50/100/50 ($50,000 bodily injury per person, $100,000 bodily injury per accident and $50,000 property damage per accident)
Full coverage: 100/300/100 with $500 deductibles on comprehensive/collision ($100,000 bodily injury per person, $300,000 bodily injury per accident and $100,000 property damage per accident)
Get started by comparing car insurance quotes
To compare car insurance rates, you must first decide how much coverage you need and have the details about your car, location and listed drivers. Also, keep in mind the difference between a car insurance rate comparison and a car insurance quote comparison:
A quote is a company's estimate of what it thinks you will pay for a policy.
The rate is the amount you'll pay once your policy is in effect.
You will get quotes during your research, but the exact amount you pay for coverage – your rate – may be more or less after the insurance company finalizes its calculations.
Check out our detailed guide: What is a car insurance quote?
Compare car insurance quotes in 5 easy steps
Here are five steps so you can compare car insurance quotes to find the best deal on car insurance:
Use the car insurance comparison tool to compare quotes
If you've moved or if you want to get a feel for what car insurance costs in your neighborhood or are a new driver, you can get an idea of what people in your area are paying by using our car insurance comparison tool, showing the average car insurance rate in each ZIP code.
California

Car Insurance Rates by ZIP Code

Enter ZIP for average rate. Then enter Age, Gender and Coverage Level for customized rate.
State Minimum:
Required liability coverage to drive legally in your state; some states mandate additional coverage, such as personal injury protection, uninsured motorist, underinsured motorist.
Liability Only 50/100/50:
$50,000 per person/$100,000 maximum per accident for bodily injury; $50,000 for property damage. Liability pays for injuries/damage you cause others.
Full Coverage 100/300/100:
$100,000 per person/$300,000 maximum per accident for bodily injury; $100,000 for property damage; comprehensive and collision coverage with $500 deductible. Liability pays for injuries/damage you cause others. Comprehensive and collision pay for damage to your car.
For
30
Year Old
Male
(Type:
Liability - Minimum
)
Highest Rate
$68

/mo.
Lowest Rate
$27

/mo.
Compare personalized quotes from up to 20 companies in

California

now
MOST & LEAST EXPENSIVE ZIP CODES in

California
MOST EXPENSIVE PER MONTH
90212 -

Beverly Hills:

$87
90210 -

Beverly Hills:

$87
91356 -

Tarzana:

$85
91203 -

Glendale:

$85
LEAST EXPENSIVE PER MONTH
96094 -

Weed:

$35
95528 -

Carlotta:

$36
96027 -

Etna:

$36
96107 -

Coleville:

$36
How we researched it?
CarInsurance.com commissioned Quadrant Information Services to provide a report of average auto insurance rates for a 2017 Honda Accord for nearly every ZIP code in the United States. We calculated rates using data for up to six large carriers. Averages for the default result are based monthly insurance for a male driver, age 30, for state minimum required liability coverage. Averages for customized rates are based on drivers' ages and gender for the following coverage levels: state minimum liability, liability of 50/100/50 and 100/300/100 with $500 deductible on comprehensive and collision. These hypothetical drivers have clean records and good credit. Average rates are for comparative purposes. Your own rate will depend on your personal factors and vehicle.
Review your existing car insurance policy and assess coverage
While you shop for the price and insurance company right for you, you should know what coverages are right for you, too. If this is a new policy, you must meet at least your state's minimum liability car insurance requirements.
If you want to find the cheapest car insurance while comparison shopping, look for liability coverage only in the smallest amount your state will accept. (Legally required minimum liability coverage amounts vary by state.) Bear in mind that some states require so little coverage that an accident might leave any other assets you have, such as a home or savings, vulnerable to lawsuits.
If you're replacing a policy, review the information on your policy to see if your existing coverage is still the best for you.
The four main types of car insurance you should understand are:
Comprehensive and collision coverage aren't budget-busters. A comprehensive car insurance comparison analysis by CarInsurance.com shows the national average annual cost is $192. For collision, it's $526.
Also, decide now what deductible makes sense for your situation. One of the best ways to save on car insurance is to raise your collision and comprehensive insurance deductible. Remember that if you have a claim, that deductible will be your out-of-pocket expense to repair or replace your car. You'll have to pay the deductible each time you file a claim. We recommend you choose an amount that you can pay from savings. Your car won't be repaired until you pay your share.
Gather your personal information
If you compare car insurance rates online side-by-side, it saves you from repeatedly giving out the same information. Once you know what coverage you need, gather the following information to request car insurance quotes.
Name, birthdate and driver's license number of all drivers to be covered.
Make and model of each car to be covered.
Driving history, including accidents and driving violations, of all drivers to be covered by the policy.
Start a car insurance rate comparison from different companies
Now, you can begin collecting online car insurance quotes. Request rates from at least three insurers. Compare coverage using the same liability limits, identical deductibles and optional coverages.
Also, follow up with potential insurers about any car insurance discounts you may qualify for. Additional discounts not part of the online quote process may be offered. For instance, you may be asked how many miles you drive a year to see if you're eligible for a low-mileage discount, but you may not be asked what your teen driver's grades are, which could snag you a good-student discount.
Now that you know what coverages and limits you need, compare car insurance quotes in your area.
Research potential car insurance companies before you buy a policy
When you're ready to buy, research the insurers that offer the lowest rate. The National Association of Insurance Commissioners (NAIC) recommends that when you compare insurance companies, you:
Check with an insurance ratings service, such as AM Best or Standard & Poor's, to find a grade or rating for the company and analyze its finances.
Check for complaints against the company with the NAIC.
Research complaint rates online at the Better Business Bureau and your state insurance department.
Read the customer comments on the company's social media sites.
Take a look at CarInsurance.com's best car insurance companies.
Tips for comparing car insurance quotes
Understanding variables that impact rates: When you compare car insurance costs, understand that many factors influence car insurance rates. The primary considerations include your age, where you live, the type of car you drive, your driving record, your credit history and how much coverage you buy.
Your deductible: The deductible you pay, if you have a full coverage policy, will increase or decrease your price. Higher deductibles lower your rates because insurers assume you will file fewer claims. If your deductible is $1,000, it doesn't make sense to file a claim for damage under that amount or even for a bit more than that, since you'll have to pay the deductible before your insurance pays out. Fewer claims mean your potential cost to your insurer is lower, so you pay less. On the other hand, a low deductible, say $500, means you'll likely file more claims. So, a low deductible will increase your rates.
Drop optional coverages if you don't need them: If you have a car that you own outright and it's not worth much money — less than $3,000 — and is 10 or older, it might not make financial sense to carry the optional coverages of comprehensive and collision. You only get paid up to the actual cash value of your car if you file a claim under these portions of your policy.
Get all the discounts you can: Not all drivers meet the criteria for all discounts, so be sure to get the ones that match your driver profile. Standard car insurance discounts include those for bundling with your home insurance company, paying your policy in full, paying electronically, meeting low mileage requirements, having safety and anti-theft features installed, insuring more than one vehicle with the same company, staying accident-free for three to five years and maintaining a high grade-point average.
Check customer reviews: Be sure to read customer reviews of companies you are considering. Also, check the insurance companies' social media and Facebook pages on your list to see what policyholders have to say about their experiences.
Car insurance comparison chart: Average rates by state
Below, you'll see the average highest and lowest rates from major insurers for nearly every ZIP code in each state.
The difference between the highest and lowest rates is the amount you could save by comparing car insurance quotes from different companies.
Compare auto insurance quotes side-by-side
Use the CarInsurance.com estimator tool to get a customized recommendation in minutes for how much coverage you need and be matched with car insurance companies that can provide quotes.
Factors to consider using an insurance comparison tool
Many factors affect your car insurance rates. Here, we'll review the chief variables of your driver profile that insurers consider when pricing your policy.
Where you live: Your location and where you garage your car are the springboard for calculating what you pay. Insurance companies consider the frequency and cost of accidents, vandalism, weather damage and theft claims in your area and set a base rate.
Your age: Inexperienced drivers, typically teens and those under 24, pay higher rates than older drivers because they are deemed high-risk motorists, meaning they have a high likelihood of getting into accidents. Generally, rates are cheapest for drivers in their 40s, 50s and 60s, and then increase again at age 70, based on an analysis of average car insurance rates by age.
Your gender: Using gender when setting car insurance rates is somewhat controversial. Seven states have either banned the use of gender in pricing auto insurance or require unisex pricing. States that banned the use of gender: California, Hawaii, Massachusetts, Montana, North Carolina, Michigan and Pennsylvania.
Your credit history: Drivers with bad credit pay more for coverage than those with good credit. If you have bad credit, you can still save on coverage by comparing quotes but be prepared for more expensive rates.
Your driving record: Your driving record affects your insurance cost. Car insurance rates go up 31%, on average, after one at-fault accident with more than $2,000 in damage, or by $450 a year, CarInsurance.com rate data show. It's just a bit more for an at-fault bodily injury accident.
The type of vehicle you drive: Car insurance costs also vary by make and model, as insurance companies consider, along with other factors we've mentioned already, how safe the vehicle is, what its rate of accident claims are and how much it costs to repair.
To compare car insurance rates by vehicle, see the average car insurance rates for the nation's top-selling 2021 vehicles in the chart below.
Final thoughts on car insurance quote comparisons
It's wise to shop your policy at least once a year or upon renewal to be sure you're not paying too much. Remember to compare car insurance quotes when you experience life changes because your existing company may no longer be the most affordable.
Here are other times you should compare car insurance quotes, as your rate is likely to be affected, and switching companies may mean more savings:
You move
You buy a car
Add or drop drivers from your policy
Experience a significant change in your credit score
Have an accident or multiple moving violations within 12 months
Add a teen driver
Comparing car insurance quotes will save money because you'll see which carrier offers the cheapest car insurance for your particular circumstances.
— Michelle Megna contributed to this story.
Compare car insurance from different companies: